Coach Weis kicks off th
e press conference giving props to his seniors as they prepare to play their last game inside Memorial Stadium Saturday. Weis said he can't imagine what it must have been like playing for three different head coaches but that he views them as his guys.
Weis goes on to talk a great deal about his seniors and what he hopes they take with them after they leave but says that "it's not over yet" and he would like to send them out with a win.
Another note on the seniors, Weis said that he doesn't want the players to think about their time at Kansas as "playing for Coach Weis" but rather "playing at the University of Kansas".
Of course Dayne Crist came up and Weis said it was "the way he carried himself on and off the field" that showed the other guys "how it's done".
I asked Coach Weis about whether or not he had talked to any of his players about the NFL and he said that he doesn't talk about that until December but that he may have a couple guys that graduate early and decide not to come back. He did however say that he will have room for next year's recruiting class "plus two".
Weis also gives a good breakdown of how the younger offensive linemen are progressing and how he has allowed many of them to "get their feet wet".
With the continuing one-dimensional attack by the Jayhawks offense, I asked Coach Weis how difficult it was to game plan with defenses knowing what's coming. Weis said that he actually enjoyed the process of scheming defenses but said that he has to change each week even though they are continuing to run the ball. He referred to the tweaking of the same plays as "window dressing".
Weis went on to say that the success of both James Sims and Tony Pierson is aided by having both on the field and said without either, the other would not be as successful.
Weis finishes off talking about team trust and how his players must know he has confidence in them.
All that and much more in the full press conference from Tuesday afternoon below.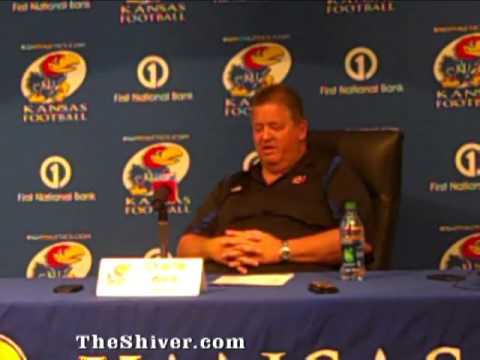 You can watch the video on your Verizon Droid device, like the full screen Motorola Razr, on Verizon's 4G LTE Network like me.
Disclosure: We are participating in the Verizon Wireless Midwest Fans program and have been provided with a wireless device and five months of service in exchange for my honest opinions about the product.