As always, Weis was his typical self Tuesday afternoon. Besides showing concern for his many family and friends on the northeast coast prior to the start of the press conference, Weis appeared upbeat and ready for the next challenge ahead.
That challenge is a feisty Baylor Bears team lead by their high powered offense.
About the Baylor offense spreading defenses out from sideline to sideline, Weis said it "might be the only time I've seen that." Weis also said that if Kansas is going to win they must force turnovers saying, "might be the only way to stop them."
Weis was also questioned about about Dave Campo and what he brings to defense. Weis says his knowledge of the game has brought respect from the players. Weis also says Campo is a "great teacher."
Daymond Patterson will be back this week after sitting for two weeks with a concussion. Weis says Patterson's experience can help specifically saying that getting separation is something Patterson can do to help Kansas' struggling passing game.
Of the difference between playing at home and on the road, Weis said that the only difference "is the nonverbal signals because of the noise."
On WR Cristian Mathews, Weis said he watched the 2011 tapes and saw how impactful Mathews could be out of the Jayhawk formation. He says they've been trying to incorporate him more as the season has progressed.
Toben Opurum and Jake Love, who left the Texas game simultaneously, will be back in the lineup this week at practice. Said that both Love and Heeney are "psycho" or at least have "psycho" personalities. Says that what they bring to the defense is the same as what he saw from them on film from 2011 on special teams.
On changing the message this week to avoid monotony Weis says, "No, it's all about winning".
I also asked Weis about the development of the offensive line. Weis said that he was happy with Damon Martin's play but that he thought it was good for senior Duane Zlatnik "to be pressed".
Weis also talked about Aslam Sterling saying the JUCO transfer has "more ability than possibly any other lineman" on the roster but that he "needs to stay mentally sharp". I also asked Weis if he thought the significant weight loss has slowed Sterling's progress in which Weis replied, "He's liking the weight loss".
Of QB Michael Cummings, Weis said that he was not forced to start Cummings but rather Cummings "kept working until he gave me a reason to put him in."
Check out the entirety of the press conference here: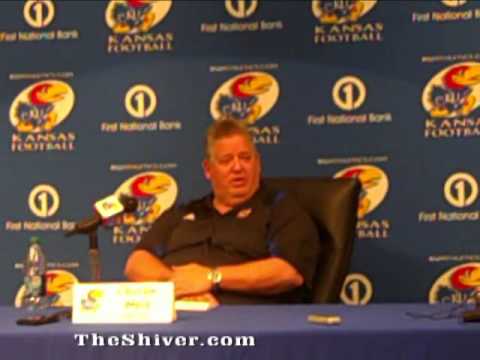 You can watch the video on your Verizon Droid device, like the full screen Motorola Razr, on Verizon's 4G LTE Network like me.
Disclosure: We are participating in the Verizon Wireless Midwest Fans program and have been provided with a wireless device and five months of service in exchange for my honest opinions about the product.