The monotony of following a 1-5 football team can be a bit much for even the most diehard of fans but Saturday was nothing short of refreshing.
The Jayhawks lost 20-14 to a 2-2 Cowboys team that is much better than their record indicates.
The first quarter started with each team exchanging a set of turnover on downs and the game was 0-0 late in the first quarter before an hour and nineteen minute inclement weather delay. When Kansas came back from the break the offense sputtered much like we have seen throughout the season.
Luckily for the Jayhawks the defense played inspired football for four full quarters which is something we have not seen all season long. In fact, coming into Saturday the Jayhawks had been outscored 43-13 in the fourth quarter.
Red-shirt freshman quarterback Michael Cumming again received late game playing time but this week it was almost enough to bring the Jayhawks a victory. The offense as a whole came alive with Cummings and running back James Sims in the backfield.
The Jayhawks defense forced a punt with just over a minute in the fourth remaining but a roughing the kicker penalty sealed the Jayhawks fifth loss of the season.
Nor Coach Weis or his players have any regard for 'moral victories' if there ever was something close, Saturday would have been it. Kansas fell short in the final minutes but we saw plenty to be optimistic about.
TheShiver.com talked to several of Saturday's playmakers including QB Michael Cummings, LB's Jake Love and Darius Willis, RB James Sims, and safety Bradley McDougald as well as take a look at some of the finer points in this week's edition of Scotten's Scribbles.
QB Move
The writing has been on the wall for a couple weeks now and finally Saturday it looks like there will finally be a move made at the quarterback position. Dayne Crist has been underwhelming to say the least throughout the season and at time even detrimental with careless turnovers. Oddly enough it was the turnovers that did Crist in Saturday as much as it was his ineffectiveness.
Crist was pulled midway through the 3rd quarter going 10-22-0 for 136 yards and no TD's. Though Crist did make some great throws early, the offense stalled out as a whole after the delay and Weis thought it was the time to give the red-shirt freshman a shot to boost the offensive production.
For the most part it worked too as the Jayhawks rattled off 14 very quick points and nearly pulled off a huge upset. Cummings finished going 5-10-0 for 75 yards and a TD but completely changed the dynamic of the offense.
Though Weis said after the game that he would have to look at the film tomorrow before making a decision for next week, he did say that he will take a hard look at the position when he looks at the film likely Sunday.
Regardless of how permanent the change may or may not be, I'd suspect to see a lot more of Cumming in the coming weeks.
Michael Cummings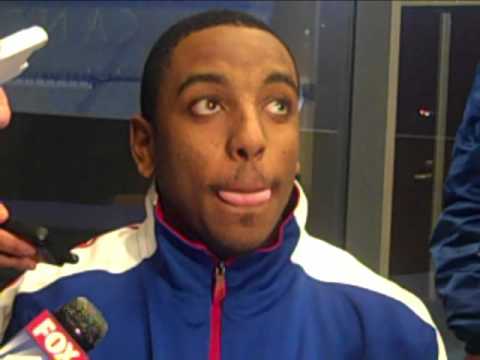 Defense Wakes Up
Though the Jayhawks defense had been a bit sporadic thus far, and got smacked around by K-State last weekend, they came alive Saturday against the Cowboys. Oklahoma State came into this game as the number one ranked offense in the country and the Jayhawks punched 'em in the nose.
Joseph Randle, who might be the best running back in the country, was held to just 86 yards on 29 attempts with no touchdowns. This is the same Kansas defense that came into Saturday's contest allowing an average of 217.8 yards per game rushing.
Though the defense as a whole was stout, it was the linebacking unit that stood out against the Cowboys. Due to a late week head injury to linebacker Tunde Bakare, red-shirt freshman Jake Love received his first collegiate start Saturday and 12 tackles, 3 for a loss, with a few coming at crucial moments in the game.
Also making an impact was a player lost in the shuffle of the coaching change junior linebacker Darius Willis who also made several crucial plays. It will be interesting to see how Weis and defensive coordinator Dave Campo handle playing time next week when Bakare returns to the lineup but for a defense that has been a punchline for the last couple of seasons that's a good problem to have.
Jake Love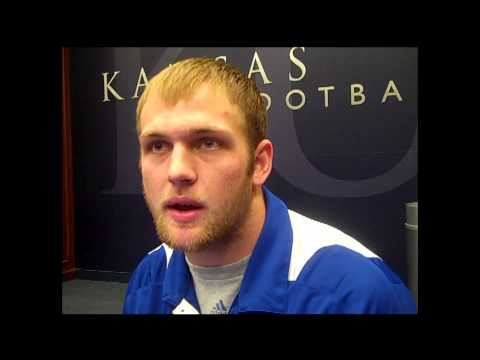 Bradley McDougald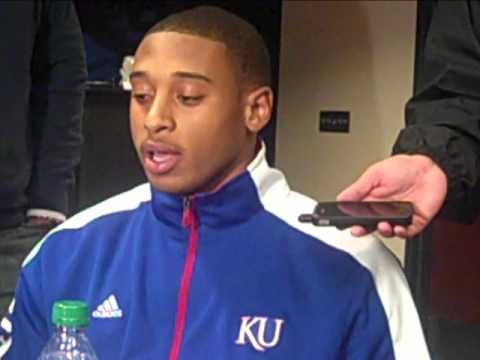 Darius Willis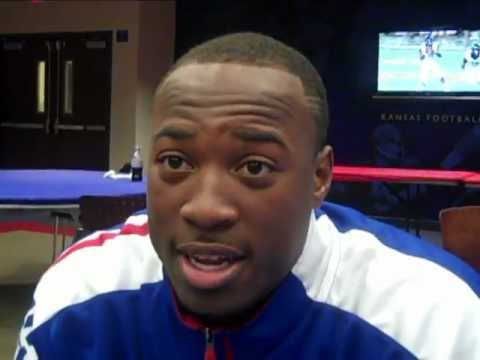 James Sims
I know coming into this game the talk was about stopping this Cowboys high-powered offense but the defense was just as stingy Saturday.
Though the Jayhawks offense was not impressive again this week passing the ball, their usually reliable rushing attack was given fits as well. Without their leading rusher and overall playmaker Tony Pierson in the lineup Kansas was forced to earn every bit of their 187 total rushing yards.
Leading the charge was James Sims who ran like a man Saturday. He was quick, evasive, and at times downright mean while rushing for 142 yards on 27 carries while contributing 42 yards on 3 receptions and a TD.
Sims was instrumental in each of the Jayhawks late 4th quarter drives and was aided by the incursion of QB Michael Cummings into the offense. With Cumming as both a passing and rushing threat, defenses have to account for him meaning they can't be as assertive in rushing the passer. When in 1-on-1 or 1-on-2 situations Sims can win most of those battles and Saturday he took advantage of Cummings being a threat.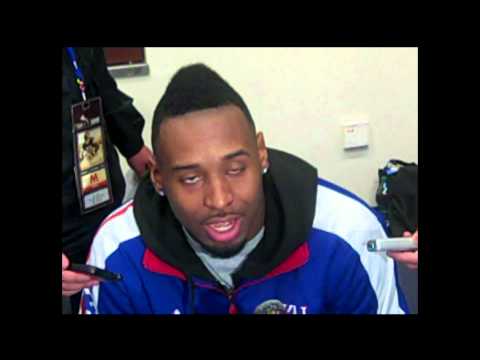 Watch all of the videos on Verizon's crazy fast 4G LTE network like we do on our Motorola Razr
Disclosure: We are participating in the Verizon Wireless Midwest Fans program and have been provided with a wireless device and five months of service in exchange for my honest opinions about the product.