1. Kansas Offensive Line
They aren't the big names that we have heard throughout the off season. They won't strike fear in the hearts of opponents or overshadow the many accomplishments of their head coach Charlie Weis but this Kansas offense will live and die by how well Tanner Hawkinson, Duane Zlatnik, Trevor Marrongelli, Aslam Sterling, and Gavin Howard perform.
All of these guys have been impressive throughout camp and will be looking to make a statement against the Jackrabbits of South Dakota State. Kansas should have a hefty advantage in the overall size department but the Jacks, though undersized, are quick and versatile. If the guys up front for the Jayhawks can get their hands on the SDSU defensive players they should have no problem dominating their front-7.
Player to Watch: The behemoth new right tackle transfer Aslam Sterling.
2. Quarterback Dayne Crist
When Charlie Weis first took the job at Kansas, one of the first moves he made in regard to personnel was to add a figurehead to the program. That player was senior quarterback transfer Dayne Crist. After spending his first 4-years of collegiate football battling injuries and coaching changes, Crist was given one last chance to prove himself as the 5-star quarterback everyone thought he would be coming out of high school.
So what does Crist need to do Saturday for the Jayhawks debut?
From all accounts Crist is healthy and ready to go but he has yet to take a hit since arriving in Lawrence (thanks to the red practice jersey) and I'm interested to see how he responds after being reintroduced to the soil.
Player to Watch: Backup QB Michael Cumming in the second half. Dude has cannon for an arm.
3. Secondary's Second Chance
One of the positions with virtually no changes is the defensive backfield. Greg Brown, Tyler Patmon, Lubbock Smith, and Bradley McDougald were all starters for a defense that finished dead last in the FBS last season. Though the Jayhawks added talented freshmen Greg Allen, Tevin Shaw, and Tyree Williams to the secondary, the coaching staff will be relying on the veterans to keep this defense afloat as these young players develope.
Though you need to be careful not to make excuses, this Kansas secondary did not receive a lot of help from the guys in the trenches last season.  The Jayhawks will run a man to man defense against the less talented SDSU offense. If they are as improved as we believe they could be, they should have no problems keeping up with SDSU offensive weapons like WR Tyrel Kool or TE Seth Daughters. If they do struggle, it may be cause for concern.
Player to Watch: Lubbock Smith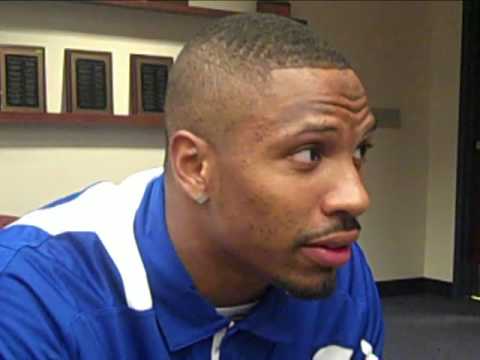 4. Defensive Line
When Coach Charlie Weis was evaluating his defense this past spring one of the first positions he openly talked about as a definitive concern was the defensive line. Ironically enough, when we fast forward to September 1, the defensive line may be one of Kansas' deepest and most improved.
With the addition of key junior college transfers like Keon Stowers and Jordan Tavai, and senior transfer Josh Williams, this Kansas defense all of a sudden is in the targeted "two-deep" at nearly every position on the line.
Another key reason for the recent strengthening of the line is simply development. Defensive line coach Buddy Wyatt has done a fantastic job of transforming Kevin Young into a dependable player. The same could be said about senior captain Toben Opurum who was not too long ago a stud running back; today he may be the Jayhawks top pass rusher.
The front-5 of the SDSU offense is talented, big, and filled with senior leadership. Though not exactly what Kansas will see in Big 12 play, facing the Jackrabbits will give the first clues on how much this defensive line has really improved.
Player to Watch: Defensive end Josh Williams has something to prove.
5. Running Back by Committee?
When starting running back James Sims was suspended for the first 3 games of 2012, the #2 on the depth chart was naturally made the featured back. Only one problem: they only want #2 to get 10-12 carries.
That #2 is sophomore Tony Pierson who has the potential to break every one of those 10-12 carries for a touchdown. But these Kansas coaches know Pierson's value and want him healthy and ready for when Sims rejoins the team in week 4. This means we will see a lot of carries from JUCO transfer Taylor Cox.
Cox has been a stud throughout Fall Camp and looks to receive the bulk of the carries despite Pierson's edge on the depth chart.
Also receiving some carries today will be Brandon Bourbon who is listed as the teams #2 fullback. This is somewhat of a mystery as Bourbon ran with the halfbacks throughout the fall and spring and looked to be making a statement. It will be interesting to see how all of these guys perform against a feisty SDSU defense.
Player to Watch: Taylor Cox