Kansas Football Coach Charlie Weis opened up the gates of Memorial Stadium to the public Saturday for Day 10 of Fall Camp. If you missed the day's events I give you a breakdown with the highlights from the day, who stood out, and also have a video montage of some of the positional drills.
*Dayne Crist looked very good today. Though he's operating knowing he has the red jersey on (signaling he can't be hit in "live" drills) the ball comes out of Crist's hands very crisp and tight. Honestly, I couldn't pinpoint a signal errant pass on the entire day.
*D.J. BeShears had an impressive day. He caught a long TD pass from Crist and had several other solid receptions in the 7 on 7 and 1 on 1 drills. He might be the Jayhawks most consistent receiver at this point along with Daymond Patterson who also had a solid day.
*Junior Transfer WR Josh Ford had a great at least 50-yard TD catch from QB Blake Jablonski during 1 on 1 drills. Ford would have had a nice 20-yard grab during 7 on 7 drills but bobbled the catch while falling to the ground and knocked it up into the hands of DB Tyler Patmon (very improved from what we saw today). After, Coach Weis absolutely dressed him down in the back of the end zone.
*From what I can tell Tre Parmalee deserves the Practice Ball today because he was all over. During 7 on 7 Parmalee took a 3-5-yard out route into a 70-yard burner up the sideline for a TD. From my angle on the field it looked like 3 separate defenders had an angle on Tre but he just out ran each one. Oh, did I mention Parmalee returned both a kickoff and punt for a TD? When asked about Parmalee in his post practice meeting with the press, QB Dayne Crist turned down the offering to hype his receiver's stellar day saying Saturday was just more of the same for Parmalee.
*It was not a good day for the kicking game. There were way too many missed kicks from short distances. Coach Weis referenced raiding the Kansas Rugby team for someone who can "kick it out of the end zone" but maybe he was looking for a bit more. In his defense, junior Ron Doherty has been handling both kicking and punting duties with the first team. Also keep in mind this was just one day of practice and the first special teams practice open to the media so it could have just been a bad day.
*Many fans turned out to get posters, helmets, and other KU Football paraphernalia signed after the day's workout. Coach Weis had the biggest line by far followed by Dave Campo and Dayne Crist—what a surprise. The players had to leave promptly at 11:30 to adhere to the strict Camp schedule but Coach Weis stayed significantly passed the horn to treat the many fans still waiting in line. Classy move for a guy who has plenty of work to do.
Highlights From Practice: Day 10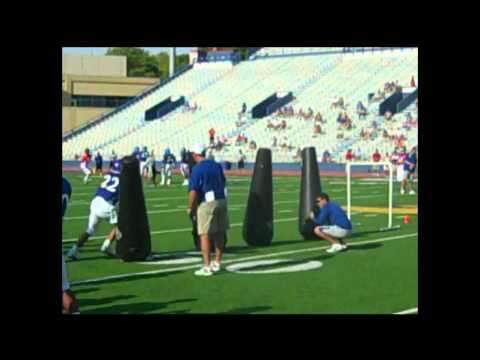 Special thanks to Lawrence, Kansas based rockers Melting Point of Bronze for providing the audio! If you are interested in having TheShiver.com feature your groups music hit me up on facebook at Josh Scotten—Sports Writer.